Shoulder Bag SB08
$77.27 + GST
Shoulder Bag SB08 – hand crafted by Moroccan artisans
Brown Moroccan leather embellished with metal studs, vintage coins and hand cut brass and bone centre piece.
Open main compartment with an external zippered pocket; adjustable strap; bottom buckle.
Dimensions: Length: 26.5cm  Width: 6cm  Height: 24cm  Strap length: 132-150cm
Note: If purchasing this product, you are accepting that it may have oil marks that typify an authentic Moroccan leather bag. These oil marks are common and occur as a result of the curing process of the leather.
In stock
Description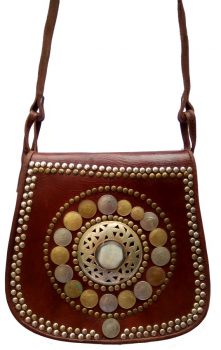 Additional information
| | |
| --- | --- |
| Moroccan leather shoulder bag | Morocco, Moroccan, shoulder bag, leather bag, hand made, hand crafted, leather |
About Us
Leather and Weave is the online shop for Afropacific Enterprise:
Leather & Weave embark on regular biz-venture (business adventure) trips to locations around the globe, directly purchasing from local artisans. Our ethically sourced products help to empower these talented artisans in their own enterprises, support sustainable development & preserve traditional skills.
Our products are uniquely hand made and imported, so colours & shapes are subject to availability. We regularly re-stock, so please keep checking back to see what's new.
Pricing
All prices are in Australian Dollars (AUD$)
---
NOTICE BOARD
Watch this space for updates on new shipments and news about Leather and Weave and Afropacific Enterprise.
WE ARE TAKING A SHORT HOLIDAY FROM 5-16 JANUARY 2018. IF YOU WOULD LIKE TO SECURE AN ITEM & PROCEED TO PURCHASE, PLEASE NOTE IT WILL BE PROCESSED ON 17 JANURAY 2018.
For wholesale enquiries, please email info@afropacificenterprise.com and request a wholesale catalogue for your geographic location.